Dressers
From traditional hardwood dressers to designs with folding mirrors and room for TVs, the utility and beauty of a custom dresser is limited only by your imagination. Take a look at these examples to get an idea of what I'm capable of and what others enjoy, but keep in mind you piece should be uniquely yours.
This dresser is an examples of a fixed center mirror with two hinged wing mirrors that are adjustable for optimum viewing..
Dressers and Tallboys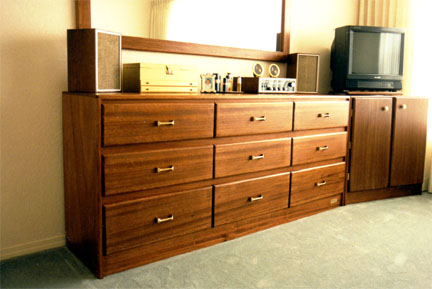 This 9-drawer Mahogany dresser accented with brass handles and with natural finish provides quite a bit of storage in its 90-inch span. The Mahogany theme is carried with the wall mirror frame above.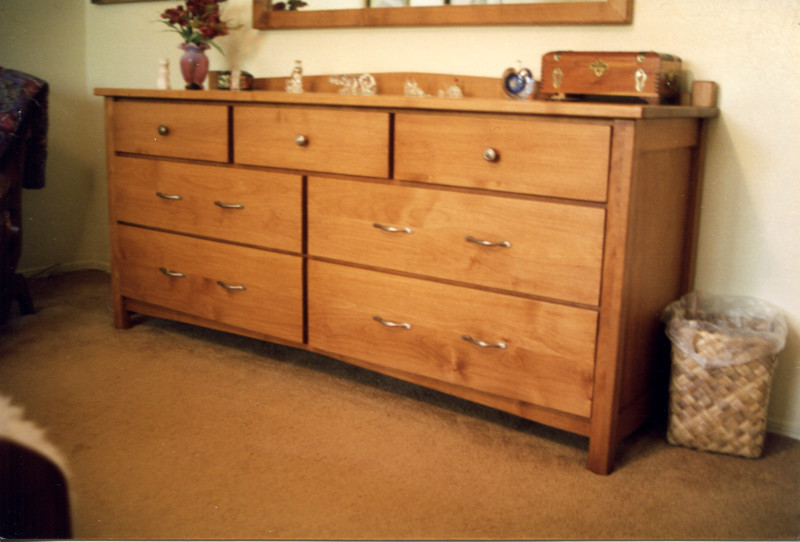 This 7-drawer dresser and 8-drawer tall boy done in Alder with natural finish also has brush-chrome handles. The customer chose the alternate knobs and handles to accent the drawer faces.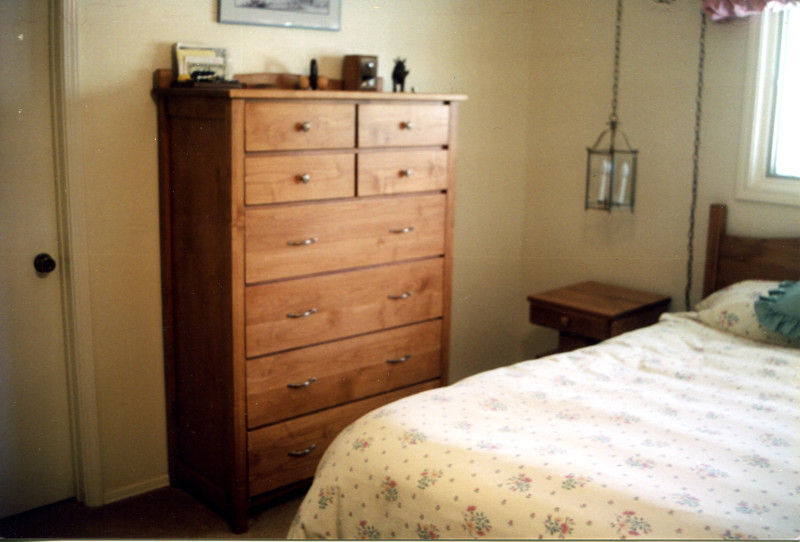 The matching back splash eliminates the hassle of small items falling behind the dresser and add another style feature.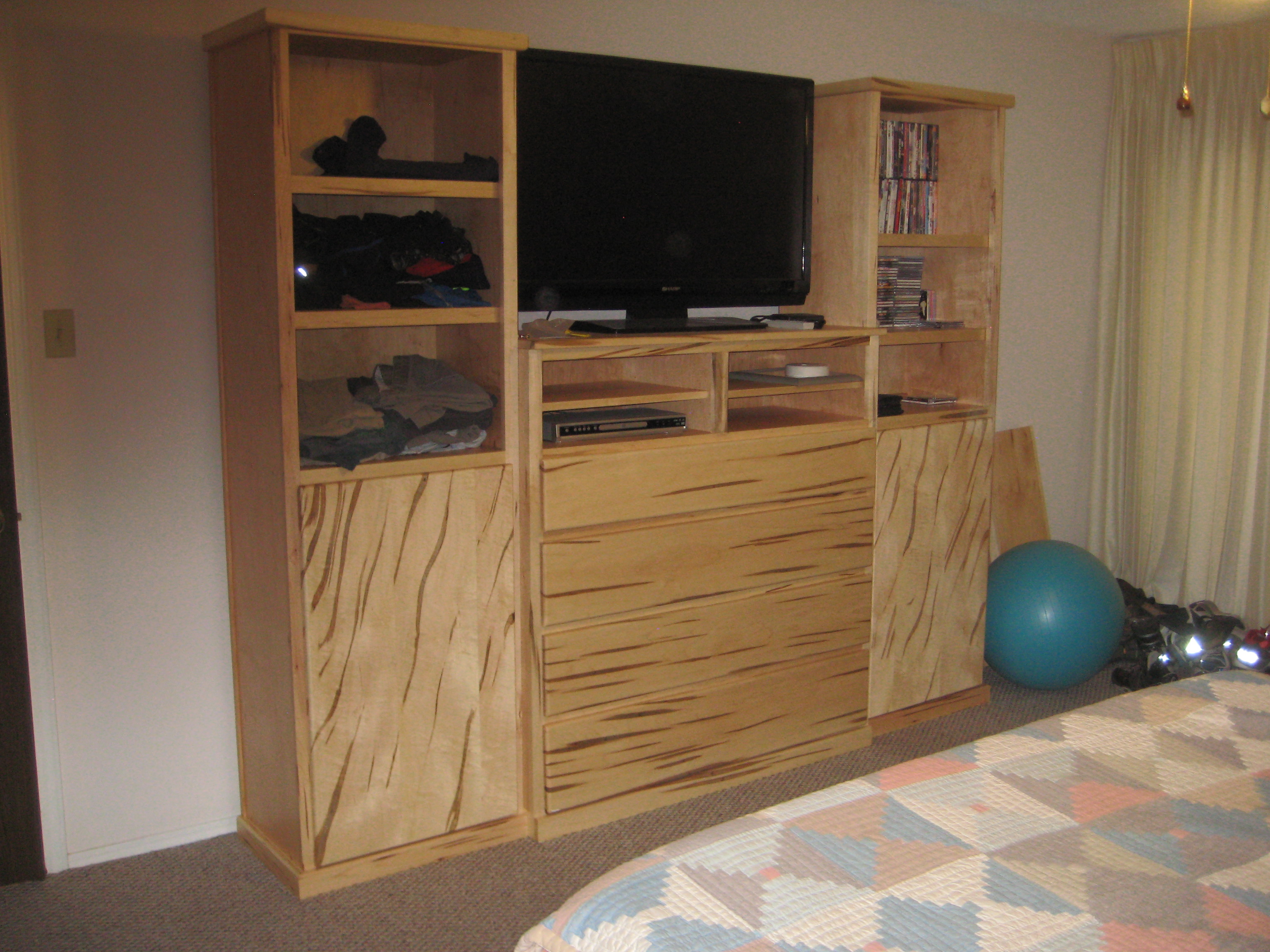 This wormy Maple dresser in a natural finish has two wings to accommodate media and storage for the TV sitting in the middle. For transportation and flexibility, it was built in 3 pieces, with a small moulding on the bottom to help with the reveal.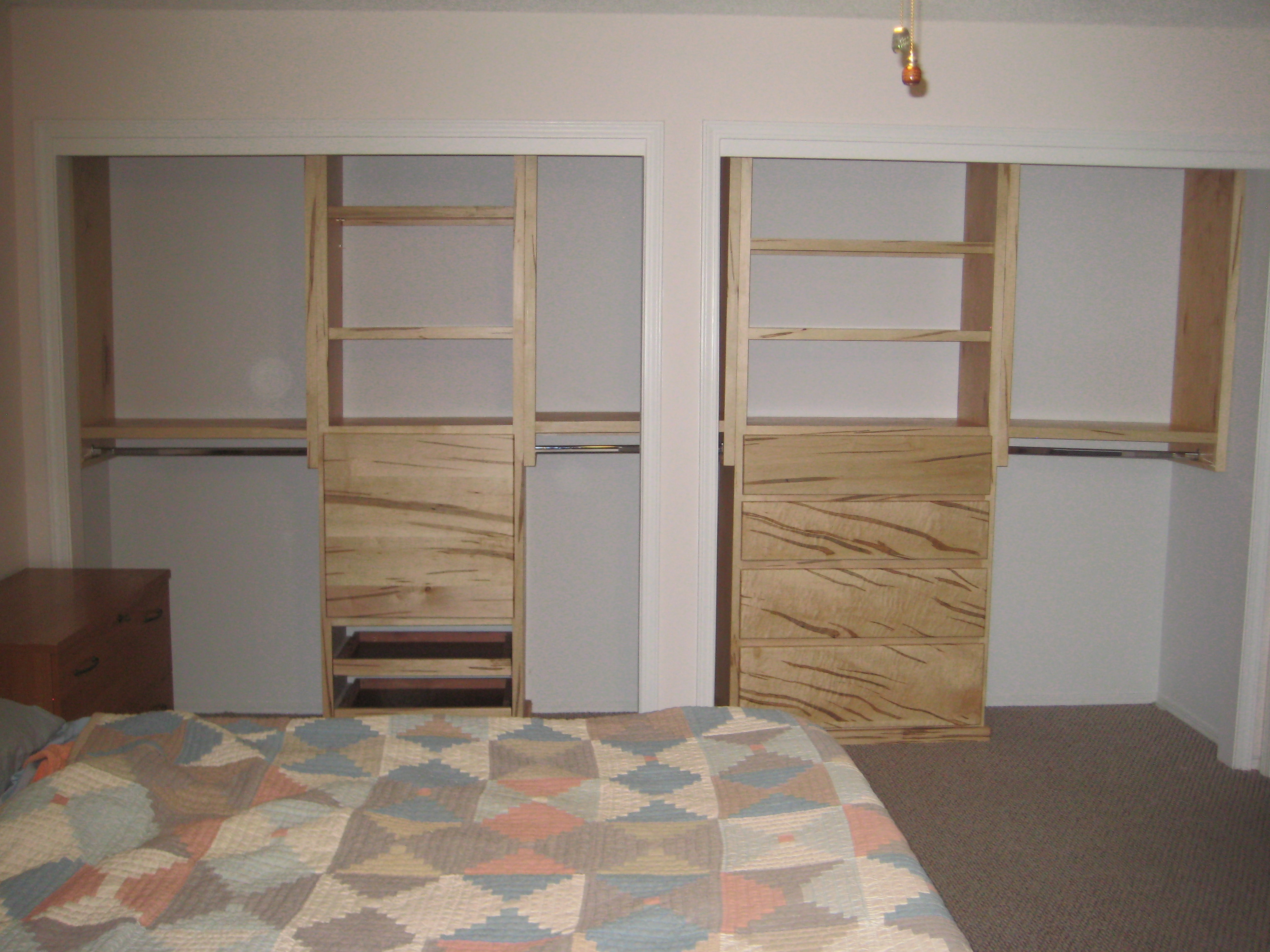 90° from the dresser is this custom closet dresser, done in matching wormy maple. It features two levels of hanging bars, modular assembly, and two different drawer arrangements. On the left, there are two shoe shelves and a hideaway hamper. On the right, there are four drawers with hidden finger pulls.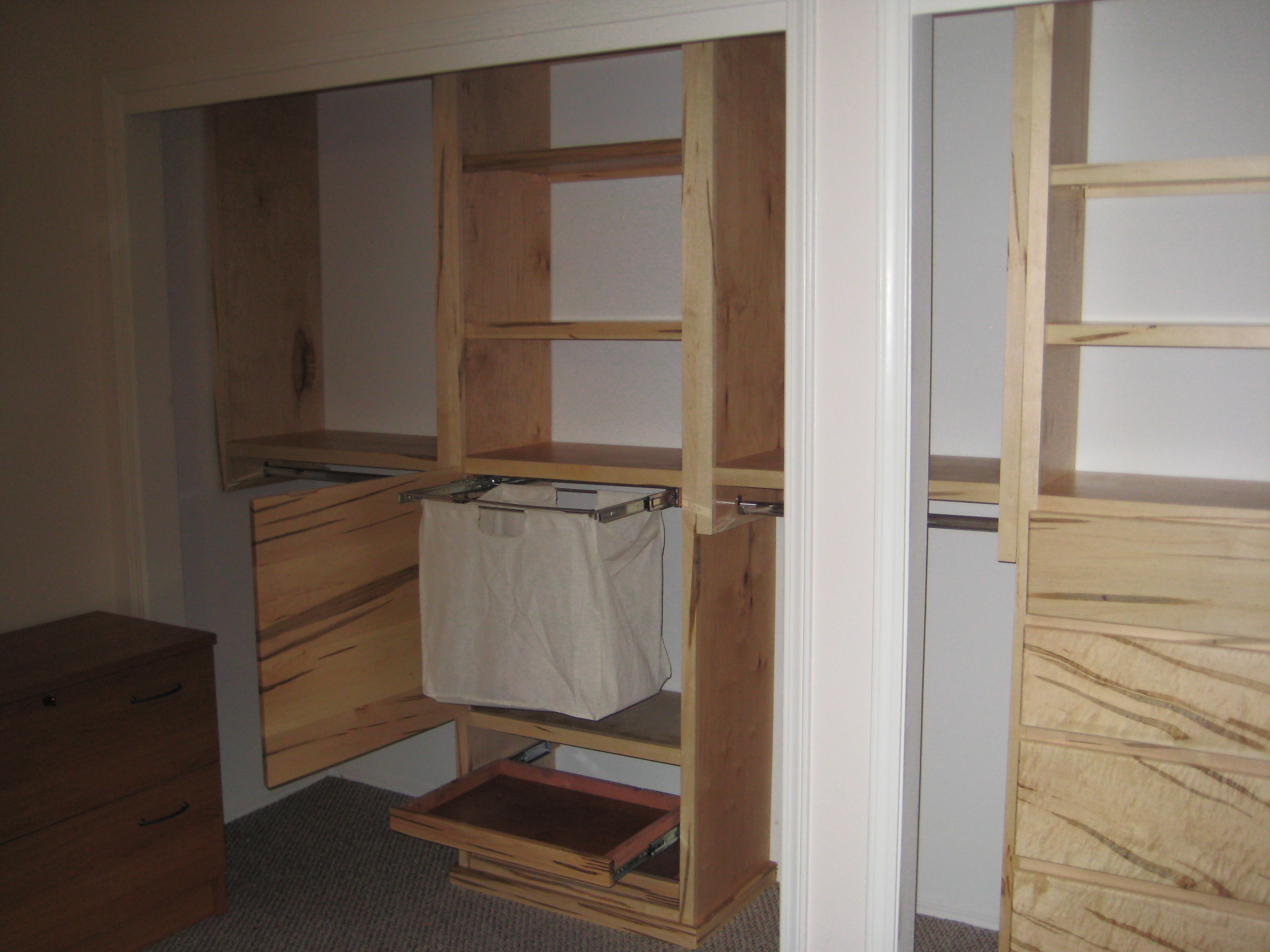 Using ball-bearing full extension slides, the hamper and shoe shelves can run all the way out without any worries of binding or bending failures that happen with typical roller slides.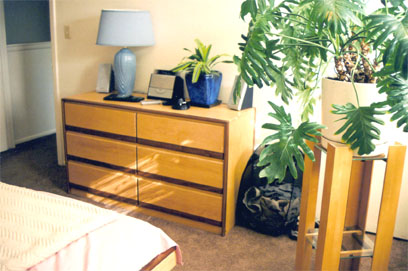 This six drawer dresser with hidden finger pulls gives a clean look without handles on drawer faces. The Maple with Walnut accent has a distinctive style.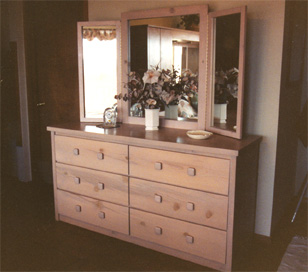 This 6 drawer dresser was built from pine, finished in a mauve wash. It has an adjustable 3 panel mirror to allow for adjustment in viewing angle.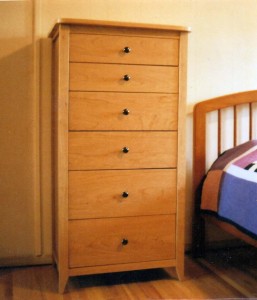 This tallboy was made from solid 4/4 Cherry, finished to match an existing bed and bedroom set. The drawer bottoms are made from melamine, to keep fine linens from snagging.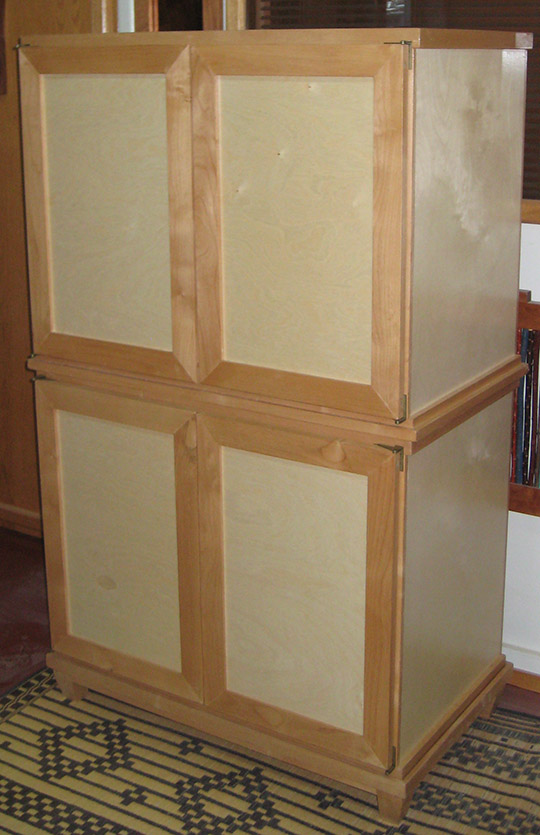 This tansu chest is a Japanese concept, of stackable cabinets containing drawers. Since it is intended to be modular, the key criteria for building this were minimizing the weight while maximizing the strength, which meant building it from 5/8″ Baltic Birch, trimmed in Alder.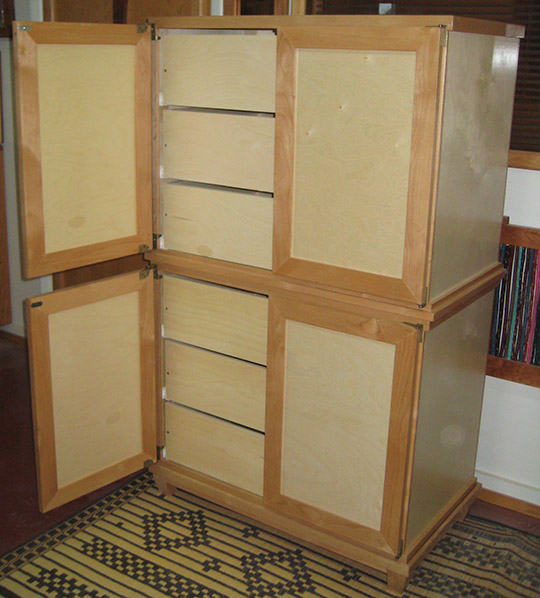 The final criterion for this particular client was to accommodate her chemical allergy to solvent-based finishes, so the outside is finished in a water-based finish, and the drawers were totally unfinished.