Benches, Boxes and Bancos
Whether you're looking for a bench that stands out with unique form or a banco that blends in with your space and provides weatherproof storage, a custom piece from Watersong will serve your needs with handmade quality and esthetic appeal that is rarely matched.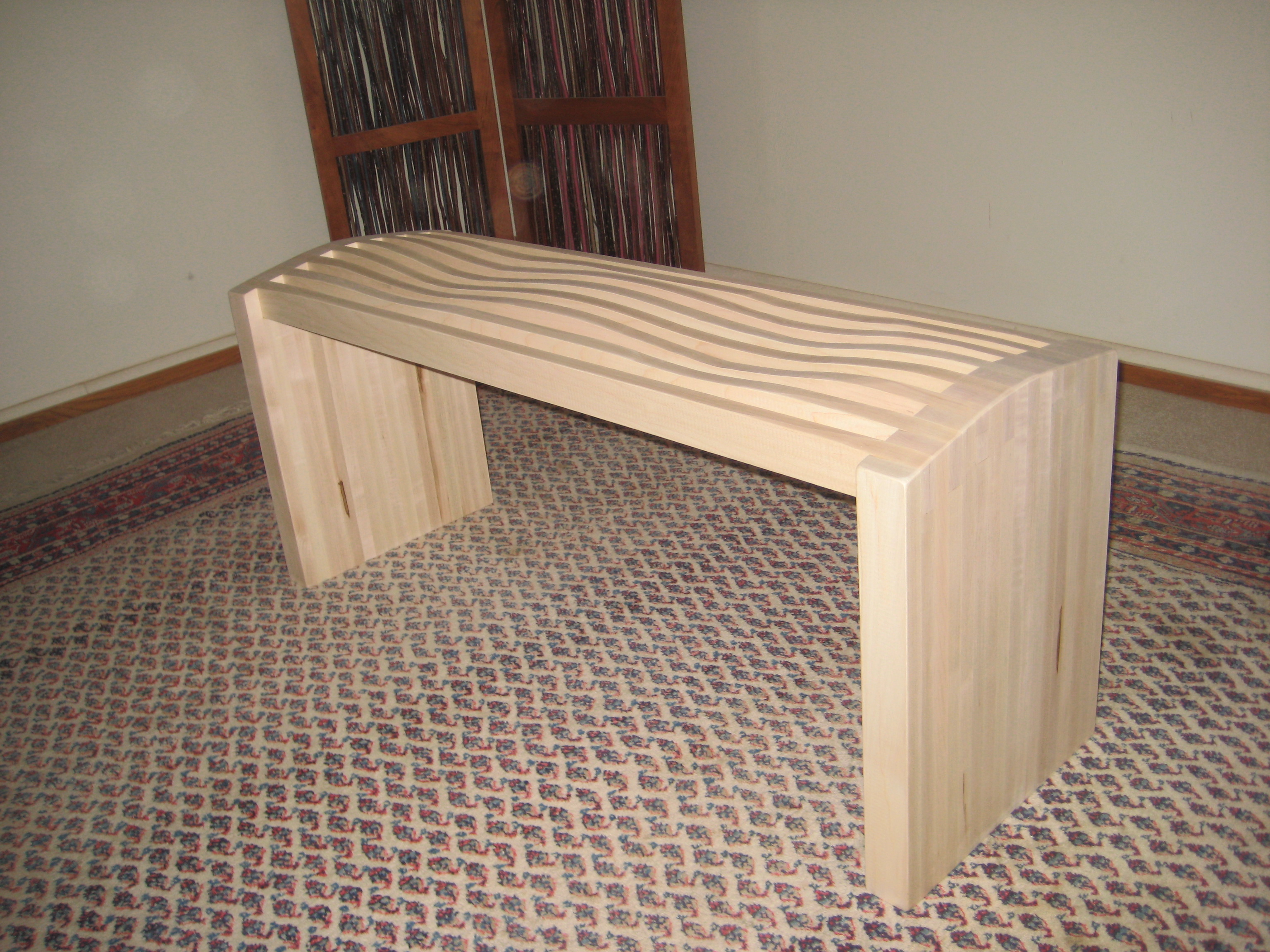 Millie's bench is named in honor of my mother's love of benches. Finished in water-based natural finish to keep it white, this white Maple bench features an open seating design with ergonomic grooves. The open seating design allows for potential drainage, should it be outside and subject to precipitation. This is the first bench I've ever sat in that I didn't miss having back support, because the seating grooves help with posture.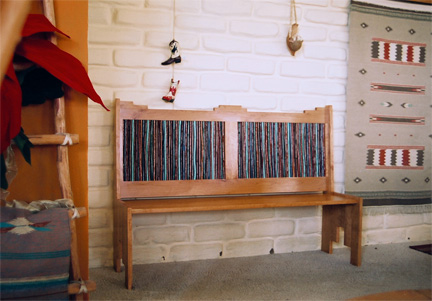 This two-person bench is made of solid cherry featuring a sombraje back (dyed willow and salt cedar sticks). The contrast between these two benches show the diversity of product that come from the sole-proprietor shop.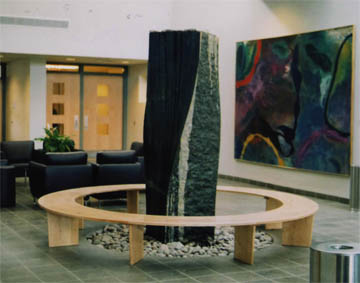 Made for the UNM Domenici Hall, this 36-person bench surrounds an art fixture in the lobby. It is made from solid white Maple, finished in a water-based acrylic to keep it from yellowing with age. To allow for cleaning of the fountain, hidden hardware allows it to separate into two halves.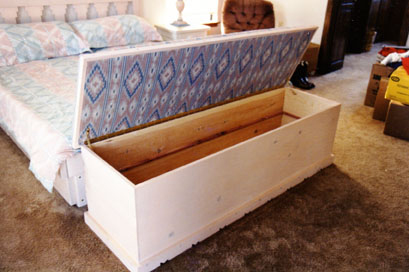 This blanket box extends the full width of the king-size bed. Done in pine with a southwest style and mauve wash, the customer asked me to upholster the top with matching fabric for comfort.
I made this traditional Cedar Chest for my niece – 20 years later, she still cherishes and uses it. I captured the Cedar with an Oak, top and bottom for durability – the scent of Cedar anchored with the soundness of Oak.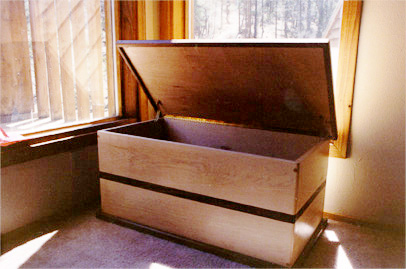 This Walnut accented, Maple blanket box fits in well with its East Mountain home. The clean lines of the box provide double-duty as a sitting Banco with a view out the window at the scenes of nature.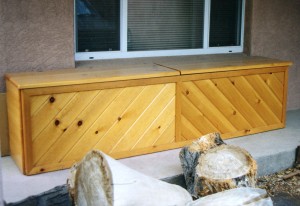 Another welcoming storage banco offers a herring-bone design on the front. The top lids open up for wood storage. A marine-spar varnish was used on this outdoor piece for durability of finish.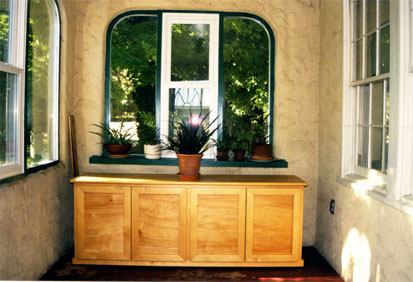 Done in Alder, this 4-door banco is used for sitting and taking off muddy shoes. It also serves as storage for the front foyer – a welcoming and functional piece of furniture.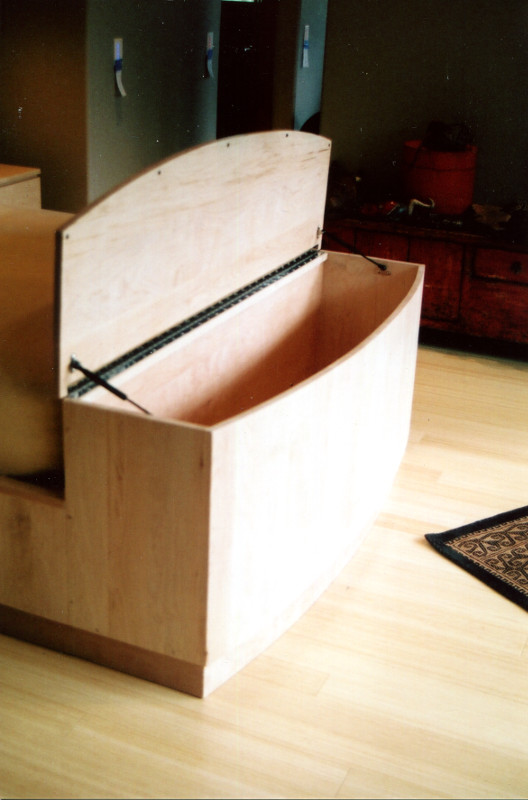 This white maple banco is integrated into the foot of a bed. The arcing front is done in vertical slats, with a 2° change in angle per joint. The seamless arc was achieved by first sanding against the grain, followed by detail sanding with the grain to remove the cross-grain blemishes. The top is 5/4″, supported on a continuous piano hinge with hydraulic lifters/dampers to help with the weight.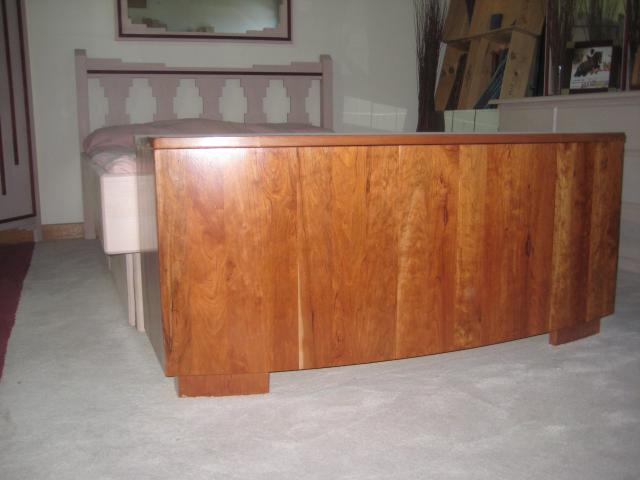 This banco is a free-standing duplicate of the previous, but is made of cherry, with the added feature of cedar lining.