About Me
About Me
My name is Andy. I am a woodworker and a craftsman.  I have owned and operated a furniture business in Albuquerque, NM at the same location for over 30 years.  I have to share credit of success with my customers – over the years, customers have spurred me on in product development. As a sole proprietor I have the opportunity and challenge of fully managing my business – I am my own bookkeeping, design and development, and marketing departments.
My appreciation for wood started when I was growing up in Africa.  Exposed to nomadic peoples, I saw that woodworking was utilitarian, had multiple uses, and reflected the stark simplicity of the third world. I also lived in Italy where I saw the most elaborate furniture, with carving and intricate inlay; furniture with style and grace. Growing up overseas, I saw woodworking as an artistic expression of quality, craftsmanship, and durability of product.
I work alone. I like the idea, and customers do as well, that I'm the only one there from start to finish, design to delivery.  When there's only one cook,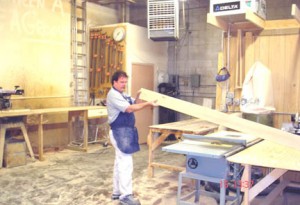 there's less salt in the meal. My shop is 1500 square feet, chilly in the mornings and dusty at the end of the day.  The front third of my shop is devoted to a limited display and office which has my portfolios. The remaining two-thirds are devoted to shop space, tools, and finishing booth.
"There is no truer and more abiding happiness than the knowledge that one is free to go on doing, day by day, the best work one can do, in the kind one likes best.  Perfect freedom is reserved for the man who lives by his own work and in that work does what he wants to do."
RG Collingwood
Method
Wood
I hand-select all my wood – quality starts with the wood. When using plywood, I use a veneer core as opposed to an MDF (particle board) whenever I can – Melamine is an exception.
I work with a lot of different woods – to accommodate the customer's design, needs and costs.  Mostly, I work with hard woods, some are harder than others – just ask my tools!  Some of the common hardwoods I use include Ash, Cherry, Hickory, Maple, Oak, Pine, Poplar, and Walnut.
Some woods can be substituted for others to save money.  For example, Alder with a stain can be made to look like Cherry or Walnut, each of which are more than twice the price of Alder.
I also work with exotic woods, like Purple Heart, Padauk, Zebra Wood, Wenge, and Mahogany. Exotic woods are expensive.  Some are rare or scarce, therefore I typically use exotic woods for trim, accent or inlay. I also offer a water-based finish for those environmentally-sensitive in their health needs.
Hardware
Hardware quality is very important between moving wooden parts – let's not put a weak link between the two.  Fine furniture requires European hinges for doors and steel ball-bearing slides for drawers.  My furniture is screwed and glued, not stapled with wishful thinking.
How to Get Started
Call me at my shop – (505) 292-8500, e-mail me, or use my contact form. As a self-employed craftsman, I'm usually in my shop 6 days a week but it is always best to call for an appointment – I'm a man wearing many hats.  I may be at the lumber yard, hardware store, or out on a delivery – and I would hate to miss you! Plus when you call, I can help with directions.
To prepare for our first meeting, you may want to have your wall and floor measurements as well as any measurements for equipment that needs to fit into your furniture – think outside and inside.  Also, if you have preexisting furniture you want to complement, a drawer face or a door helps us select matching types of wood, color stain, sheen of finish, edge routing/tooling, and handle hardware, if any. Oftentimes, I'll give you a sample piece to take home and look at under different lights.
During our time together, we draw pictures! (We both benefit with the visual aid!  A picture is worth a 1000 words.) When I have enough information, I do my figuring and call you back with a fairly accurate estimate. My furniture is custom and so is my pricing.  And then, really, you take your time to think.  The furniture I make will be tailored to your needs and space.
Method of Payment
Once the final design is envisioned and shared, I normally require a deposit of between a third to a half of the total agreed upon price. At this time, we will also pencil in a completion date – usually, 4 to 8 weeks – depending on lead time and complexity of your project. Some furniture is predictable and can be produced within a week – especially if I'm hungry!
Payment on completion and/or delivery.
I take Visa, MasterCard, checks or cash – no lupins, please!
Delivery
I do my own in-town deliveries and out-of-town when feasible.  I have delivered furniture from Wyoming to Texas and California to New Jersey, with many states in between. (I consider out-of-town deliveries as healing time for my hands.)